When Dan left school, he wasn't quite sure what his next steps would be. Living in the beautiful Port Elizabeth city (now officially known as Gqeberha) on the Eastern Coast of South Africa, he was ready for a change - but not quite sure where to start.
Johannesburg was his first stop, but it wasn't leading anywhere so when his older brother suggested an OE, Dan thought 'why not?'.
He spent the next two years working in the UK and traveling to Turkey and Indonesia. He describes it as the time he needed to get his head screwed on, to find motivation and to grow some maturity. 
AN ACADEMIC CAREER
It must have worked, because Dan left the UK not only with amazing experiences, but also having saved enough money to support himself through his studies. He enrolled in engineering at the Nelson Mandela University and got stuck in. At the end of his degree Dan was ready to get a job and spoke to his mentor about perhaps putting him in contact with people in the UK so he could move there. However, his mentor had different ideas.  As the top technology engineering student it was perhaps not surprising the University wanted to hold onto him, and suggested he stay on to complete his Masters.  Working with a friend, Dan completed his Masters investigating a friction welding process for steel and was again recognised as the top student with a 'Best Masters in Technology award.'
Naturally the University was reluctant to lose their best student, and at the end of his Master's Dan and his friend were told by their professor "you guys are both doing your doctorates now."
Over the next five years, Dan and a friend worked tirelessly on a friction hydro pillar process for welding high strength low alloy steels. The PhD was a significant undertaking and required a lot of mechanical testing. There were no shortcuts for this type of work, and the PhD spanned 5 years. During this time, Dan supported himself by lecturing at the University and also applied his learning in a commercial setting in power plants. This opportunity was set up by their PhD mentor through a technology transfer station – which helped get academic research used in commercial settings.
Dan's research had a bespoke and valuable application in measuring creep in aging steel, and in 2010 he was awarded The Rupert Gesintigting Award for his contribution to this issue.
LAND OF THE LONG WHITE CLOUD
At the end of the PhD, a job was waiting for Dan in South Africa, but he also had his wife waiting for him in New Zealand. She had decided the country offered them good long term opportunities so Dan packed his bags once again and joined her in Christchurch.
Arriving in New Zealand, Dan was offered a job at Brevity (then BVT). He says "I instantly liked the way they did things. Everyone was open to sharing information, helping each other and collaborating." He also liked the progressive nature of the organisation. Describing Matt as "one of the most intelligent engineers he's worked with", Dan loved the way Matt was never happy to accept the status quo. "He was always looking for ways to do things better, he had a vision of how things could be done and that technology was the way of the future."
Dan recalls the early days in Brevity, when things were done with pen and paper. "Matt decided we needed to be digital so everything was moved to excel spreadsheets and working online. Now we are moving again, with the team learning how to code."
The thing that hasn't changed however, is the way the team works together and supports each other. Dan explains that good consultancy is a balance between delivering exceptional quality to clients, but also doing it quickly and efficiently. He believes that putting your hand up and asking for help is the best way to speed up delivery. There is often someone who has solved your problem before – or something like it, and drawing on the team's knowledge is a great way to bring broad expertise to your project. As the organisation becomes more digitally enabled, sharing and collaborating becomes even easier.
GOOD THINGS TAKE TIME
Dan applies his stickability to all aspects of his life. Just as he spent time completing his studies to the highest level, and then applied the same approach to his work at Brevity – becoming increasingly specialised in interior seismic engineering and racking, he also takes his time to get it right outside of work.  
Having bought land over three years ago, Dan, his wife,their young son and dog, lived in two small rented portacabins for over two years while their home was being built. He remembers the tiny space they all shared with affection but also appreciates the space in their new home. They now spend their time gardening and investing in their lifestyle block. Dan is currently replacing over 100 trees, killed by heavy rain last year, with hand propagated Willow trees, each individually grown from a cutting and already thriving.
INTERIOR SEISMIC ENGINEERING SPECIALIST
Over the course of many years, Dan has developed his expertise as a leading interior seismic engineer. However, even with a doctorate in engineering and many years working at Brevity, Dan loves the way the work continues to challenge him. "The bespoke parts of our work and the challenge of delivering solutions that really work for our clients keeps the job really interesting."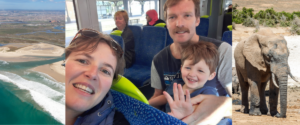 If you require expert seismic knowledge or efficient delivery on a job, please get in touch. Dan and his colleagues at Brevity would love to bring their combined expertise to your project.