If there's one value that runs deep for Devante Puiri-Tuia, it's hard work. It's an approach that has developed over time and has become deeply entrenched into his way of life, both personally and professionally.
As a recent graduate, Devante has thrown himself into his new role as a Brevity Interiors Engineer. Devante loves the fast paced, accelerated learning environment at Brevity. When he started, Devante was worried that if he asked too much, he would look like he didn't know anything. "I quickly realised I didn't know anything!" With the huge amount of collective knowledge in the team, Devante found he could tap into this and learn quickly, simply by asking questions. The culture of the team encourages this, and Devante has taken full advantage.
Devante loves the work he does, the people he works with, and the interactions he has with clients. Everyday as he walks in the door, he feels grateful. Perhaps his gratitude is so heartfelt because the path to getting there was a tough one. 
Choosing a Direction
Growing up in South Auckland, Devante attended De La Salle college. Art and graphic design were his favourite subjects, but he wasn't sure where they'd lead, so he kept up with maths and physics to keep his options open. "I think I was probably better at physics than art, anyway" he jokes.
Devante finished school with strong marks, and was given a few suggestions by his careers counsellor. Not having a strong view on what he wanted to do, Devante tried a course in refrigeration and air conditioning at MIT. After a month, he realised this wasn't for him. Luckily his quick decision making enabled him to join summer school at AUT so he could still enrol for courses starting in the new year. He applied for engineering and was accepted, however, it wasn't the right time for him, and Devante took on full time work for the next few years. He kept an open mind about returning to study in the future.
Devante describes a watershed moment, when he made the decision to return to study. "I give my partner Elizabeth a lot of credit for getting where I have. It was her belief in me that gave me the confidence to give engineering a go. It was a big call, I was employed at the time and my job was an important financial support for my family. To go full time study felt like a risk. But I also knew I wanted to create a new path for my life."
Balancing Study and Work
After four years of employment, Devante returned to AUT to study mechanical engineering. Throughout his degree, he also held down a series of full-time jobs. Not only was Devante supporting himself, but also his family. He worked nights as a traffic controller for ITC (Independent Traffic Control), and as the night manager at the AUT Halls of Residence. During the summer, he also worked as a tutor for AUT summer school. He describes this as 'full circle', as he was helping students in the same way he had benefited from the programme himself. 
Life at university was a balancing act for Devante, finding time to study, work and sleep. Often, Devante would finish a night shift, and head straight into university. "I'd sit down to study and just fall asleep!" he recalls. "Working as the night manager for the Halls was helpful, as I could get 6-7 hours study in if it was a quiet night – which it often was on a Sunday or Monday, but Friday and Saturdays were a different story!" he says.  While Devante plays down the huge effort that went into getting his degree, he is quick to acknowledge the support he received from his family.
Family and Friends
Devante vividly remembers the day he received the news of his graduation. "I remember I looked at the certificate and thought, wow, I've done it!" The graduation ceremony was a very proud moment for Devante, his parents, siblings and grandparents. As a family, they were all aware of how much Devante had put into achieving his degree, and they were proud of him. "There was a lot of crying and praying," he recalls fondly.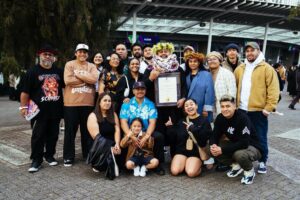 During his interview process for Brevity, Devante was delighted to find out his good friend Chrismagne was also in the running. As luck would have it, they were both successful and began their journey with Brevity together. It was more than Devante could have wished for, and also contributes to his sense of gratitude as he arrives at work each day. 
When he's not at work, Devante enjoys spending time at the gym. His gym buddies are his four siblings. They all enjoy hanging out together and encouraging each other towards their fitness goals. As well as spending time at the gym, Devante still enjoys his art, but these days he says he mostly draws pictures for his younger nieces and nephews. "I have a four year old cousin who loves Monsta Truck, so I end up drawing a lot of those," he laughs.
Team Brevity
Devante has quickly become a valued member of the Brevity team. He has enjoyed working on the more complicated racking projects, and values the support he gets from more senior engineers, such as Brevity's racking expert Sia Mosaferi. He has also been keen to learn coding from the Brevity experts and is putting his learning into practice, developing an app that will help improve efficiency in communication. As a winner at the recent Brevity Values Awards, Devante was described by his work colleagues "as always being humble, whilst also being confident in his abilities". The combination of Devante's engineering skill, his openness to learning and his ethic of hard work are already setting him apart as an exceptional talent with an exciting future.