"Brevity proved to be an effortless collaborator and partner throughout the entire design and construction journey of our Manaaki development, resulting in a great final product delivery" - Hannah Majurey, Ockham Project Manager
Project:
Design of Suspended Ceilings, Partitions and Services and Construction Monitoring  for Manaaki Apartments
Client:
Ockham
Location:
Onehunga, Auckland
Date:
2021-2023
Category:
Multi Residential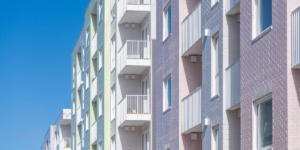 Manaaki Apartments, created by Ockham in partnership with Marutūāhu Iwi , sit in one of Auckland's oldest suburbs. In the mid 1800's, Onehunga was one of New Zealand's first and busiest ports, and since then it has continued to develop its character, with the new Manaaki Apartments on Jordan Ave adding to the story. 
The complex includes 210 apartments spread over four buildings, along with a residents lounge, in-house cafe and work from home spaces.  The pastel hues of the bricks might feel familiar, as they reflect those used in the beautiful art deco buildings of Napier following the 1931 earthquake. Just like the buildings in Napier, these modern apartments are designed to meet all the seismic requirements of the day – which have been informed through the experience and knowledge gained over the decades.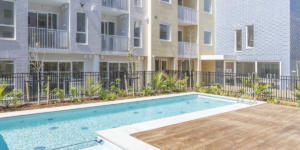 Working Smarter
Brevity, a company of interior seismic specialists, was engaged to provide the interior seismic designs for the suspended ceilings, partitions and services, and to provide construction monitoring through the build.
Brevity have worked with Ockham on a number of projects over recent years, and with a shared vision for working smarter, Brevity and Ockham have developed systems for efficiency from the design phase through to construction. Suryaraj Salunkhe, an experienced Brevity engineer, says "We worked well together because we were on the same page right from the start. We both wanted to find more efficient ways of working and were open to trying new things."
The Manaaki apartments are the first project where templates were developed for a range of generalised designs. As Ockham design and develop apartments across the country, they have been able to pick and choose from the templates designed by Brevity and apply these to different apartments. Suryaraj adds "There was no disconnect between the design and construction phase because the same team of people worked on the designs and were on-site making it happen."
Furthermore, because Ockham's project managers have had a close working relationship with the Brevity team, they are very connected to the Brevity designs. As a result, they have an understanding of the design intent and are able to incorporate variations that work within the design requirements. This has enabled them to keep moving on projects, and has reduced the need for revisions.
The trust built between the Brevity team and Ockham has paved the way for Brevity engineers to discuss the build directly with installers, keeping things running smoothly and identifying and resolving issues early.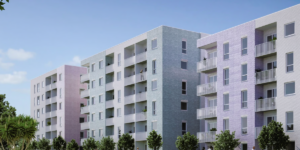 Going the extra mile
Engineer, Michael Muirhead, was relatively new to Brevity when he started on the Manaaki Apartments project for Ockham. He was involved in the construction monitoring and says "It was really cool to see it from start to finish, and to have such a good relationship and open communication with the Ockham project managers throughout."
When an urgent call came through for a large number of PS4s, Suryaraj Salunkhe and Michael pulled the whole team together to get them turned around in record time. 16 PS1s were split out across the team and delivered to Ockham within a day. "We really wanted to put out all the stops for them because we had built up such a good working relationship," says Suryaraj.
The team at Brevity have thoroughly enjoyed the process of developing and system and refining their working relationship with Ockham through this project, and a number of others.
Ockham Project Manager, Hannah Majurey, says
"Brevity proved to be an effortless collaborator and partner throughout the entire design and construction journey of our Manaaki development, resulting in a great final product delivery."
If you have a project you'd like to discuss with us, please get in touch to find out how we can work alongside your team and deliver exceptional solutions and efficient outcomes for your project. You can also read more about our experience with multi residential builds here.